Since last time I wrote on the various definitions of user experience, Bryce Glass, Mike Kuniavsky and Thomas Baekdal have made excellent points on the subject of providing a single, clear understandable definition of user experience.
Also, I attended Jesse James Garrett's seminar ("defining the user experience" – my notes) last month, and got a better understanding of how Jesse's original thoughts on user experience were defined.
Thomas Baekdal on The Battle Between Usability and User-Experience:
User-experience is not like usability – it is about feelings. The aim here is to create happiness. You want people to feel happy before, during and after they have used your product. To do that you need to take all kinds of things into consideration. Things like: Environment,Colors moods, Smell, Touch, […], Show-off effect, Usefulness, etc.
This is much much much harder to achieve. None of these things can be accurately analyzed. It is a touchy feeling kind of thing.

Why, for instance, does a Audi S6 give you a much better user-experience than a Ford Focus? I mean, in terms of usability they are pretty much the same.
UXP for the development team
Jesse's conference was about "defining the user experience". User experience, the way he defined it that day, was focused on how teams organize to provide web applications with high user experience.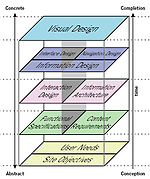 He went though the five planes of user experience (simplified below):
user needs/objectives
Functional
interaction design
interface/information design
visual design
Focus was on how to do it – not from the end-users perspective, but from the perspective of the web development team.
UXP for the philosopher
Mike Kuniavsky from his profile page on Amazon:
No single accepted definition of the user experience exists (Jesper Rønn-Jensen does a good job of describing the problem in his blog).
[…]

Usability does not equate to user experience. The specific boundaries vary with each product, audience and situation. I have found the following to be a decent working guideline: The user experience consists of all of the factors that influence the relationship between the end user and an organization, especially when a product mediates that relationship.

The key part of this definition, for me, is the relationship of the organization to the product. To me, the user experience is incomplete without a consideration of the organization that created the experience. The end result is the intersection of an organization's goals and that organization's understanding of users' goals, and it's the designer and researcher's role to mediate a compromise between these.
I've always been an admiror of Mikes work (ever since I heard the Wired/Webmonkey interview mp3 with him around 1998-2000). His book, Observing the user experience, was also pointed to by Jesse James Garrett. I have the book, but only got through a few chapters. (Note to self: Should definately pick up the book again — especially now he's linking to the stuff I wrote)
Mike's got a point: I like the tight coupling between user experience and the organization (the sender, the product). But then, it's not really a tangible, easy-to-use definition. I want something that everybody can understand. Users, web developers, designers, business analysts, clients must all be able to agree on the same definition and understand the definition in the same way. In my opinion this tends toward being too philosophical.
UXP for the pragmatic
That's why I really like Thomas Baekdal's ending notes in his discussion: "Make it easy to be happy":
Make it easy to be happy

It is far from easy to create a great product on demand, but it is possible.

First of all, do not focus on usability or user-experience. Do not directly try to achieve to create synergies. Do not try to create a great product. None of these things will get you any closer.

Focus on making it easy to be happy, and usability, user-experience and greatness will come all by itself.

Instead of making a product management web application, make it easy to finish great projects.
Instead of making usable instant messaging, make it easy to have interesting conversations.
Instead of making a powerful web writer, make it easy to write exciting stories.

The result is that you use usability to take away all the things that distracts you from happiness, and you use the elements of user-experience to empower what people can do… and now you got a great product.
I really like this approach to user experience. Not specific for web development teams and experts. Very pragmatic and very easy-to-understand.
Finally, revisiting the diagram by Bryce Glass (soldierant) and Frank Spillers.

Your web application should hopefully help users get "a positive experience" as stated on the diagram. Compare this to Baekdal's philosophy, which is much more focused on how to get there:
Focus on making it easy to be happy, and usability, user-experience and greatness will come all by itself
It fits well, and can help web teams to focus on user experience, still having a usable website. It does it well in a way, that end-users can also understand.