Perfect wallpaper for any project room. The Bad Usability Calendar from Norwegian company Netlife Research.
At UI 11 last week I was fortunate to meet Eidar (photo) from Netlife Research. His usability firm made a Bad Usability Calendar, which is absolutely fantastic. I'm putting the link here directly, as their pages are in Norwegian.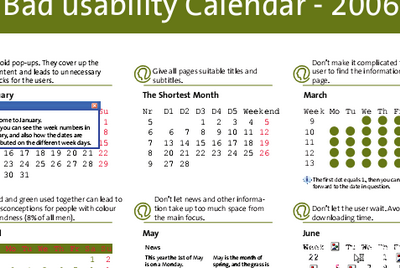 They also did a similar calender for 2005, but unfortunately only in Norwegian.
The calendar is an absolutely must-have asset for any future projects. I see several benefits:
Good humour makes usability easy to understand
Easy to understand for all project resources
Visibility of usability in projects
An actual calendar that can be used for simple scheduling (at least for some of the months that are not completely covered by popup-windows or similar!)
And I will also print a poster to decorate my manager's wall next to "The importance of User Experience" poster by Frank Spillers. In my opinion the best visual explanation of user experience.
Update 2006-11-10: 2007 calendar is now open for suggestions.
Technorati Tags: usability, accessibility, calendar, anti-usability, user experience, ux, uxp