Hi, this is Luis Villa, Thomas and Jesper's former colleague at Capgemini Spain. They couldn't make it to @media in London last week, so they asked me to give a summary of the event.
London @media 2006 was a Conference about frontend and web user interface in all its dimensions: strategy, design and building and after attending the W3C Technical Plenary at Cannes — more technical — it was the chance to see other people that have most influenced the user experience on the web and talking with them. Really, it felt like a rock concert full of fans.
I'll divide this post in two parts: first, I'll start with my personal impressions and second, links to the presentations and materials (so you can jump to the bottom of the page).
The past, present and future of the web lies in the community and the open sharing of information
The web was born to help the community, and was evolved by the work and generous work of passionate experts as Eric Meyer pointed out on his keynote. Formal structures and big companies have proved to be inadequate to make the web evolve.
I have learnt so much from the web design community so surely I have an obligation to give back to it.
— Eric Meyer
The web is about people and passion
Listening to all the speakers, the web is about people and passion. Passion and emotion were some of the most repeated words in all sessions.
Never underestimate the effect of a small select group of passionate experts.
— Eric Meyer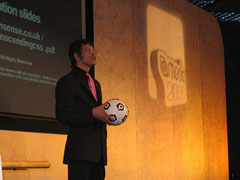 And as Andy Clarke points out in his blog:
On a more personal note I was left humbled by the passion of almost everybody I spoke with. While conferences like @media provide a focus for ideas, it's in the day-to-day life of a designer or developer where the real hard work takes place. There seemed to be no lack of passion or excitement about design, standards or accessibility and still a great deal to talk about.
— Andy Clarke
The community is your best teacher. Play, learn and share
"Do we need a formal structure, such as qualifications or a professional body, to identify the understanding of abilities of web designers?". The panelists agreed on having a formal qualification could be, even, a drawback.
Courses and certifications do not guarantee quality on web design because most of them are obsolete. Flow with the community as the way to learn and stay up to date.
"Most of the training materials on web design I see on Universities and Companies are from the last century"
— Eric Meyer
Usability is getting more diluted on the design process
Usability, as the brand aesthetic Mr. Nielsen represents, sounds out of context in @media. The terms used to describe the interaction between users and website were more sophisticated: aesthetic, pleasure, quality, design, emotion, user experience, or even the more technical, accessibility.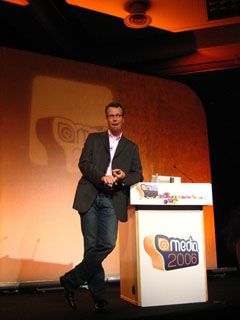 The term Usability, seem to be out of fashion among the twopointoh crowd. No speaker mentioned the term usability. The closest one was Jeff Veen talking about ease of use as one of the important features of the so called Web 2.0.
The community does not need deliberations or theories, the community needs practical standards today
On web design issues, the community pay more attention to the Webstandards Group because of their sense of practice and empathy with the design and development professionals.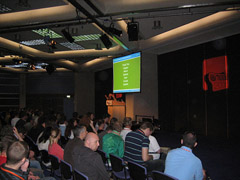 The fast growth of the microformats use, as a way of embedding semantics on the interface, is another example.
The W3C is loosing credibility and empathy among the community
Is W3C going out of the game? Web Content Accessibility Guidelines 2.0 (WCAG 2.0), have been criticized by web accessibility gurus as Joe Clark, members of the Webstandards Group, and designers and developers for being impractical and difficult to assimilate.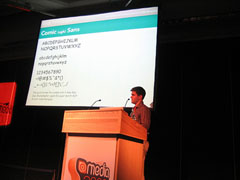 Also, mentioning future W3C standards like CSS 3.0, SVG 2.0, XHMTL 2.0 or XForms as 2007 hot topics, made the audience break into laughs while community supported standards as microformats were applauded by the audience.
The Javascrtipt Golden Years are coming
The 2003-2005 period was CSS + XHTML era: books, weblogs, articles and design superheroes will have their place for sometime, but this year and the forecoming, will be the Javascript Golden Years. Rich Web Interfaces, demand good javascript programmers. Specialists in bringing to life sleepy interfaces and creating great user experiences. The next generation of web heroes will be that ones that can develop rich and accessible web interfaces.
There's a need to evolve actual web design by breaking old patterns
Actual web design is based on old and boring patterns and standards that are proving not helping the user. As Andy Clarke pointed out on his talk, a change of perspective is key to make a great web design. Actual web standards give lot of freedom to the designers and developers to make a whole new thing, escaping from that traditional software like interfaces, and getting to design usable, and also pleasurable and aesthetic products.
Designers and Developers are becoming Devigners and Desilopers
Molly Holzschlag talked about the different approach of solving problems among designers and developers. The gap is closing and there are good designers and developers that control all the aspects of web design. Andy Clarke or Cameron Adams are paradigms of the future web design proffesional
Having fun is still part of this "web stuff"
Keep on evolving and growing the web takes so much effort. This could not be possible without passion and a sense of fun of the web design colleagues: Being sorroundend by porfessionals that enjoy playing, experiencing, learning and sharing their work will be key for the future of the user experience on the web.
Download Presentations
While all official materials -presentations, podcasts and all that stuff- are being processed by the Vivabit team, these are links to materials taken from the sessions and speakers:
Luis Villa works in Spain at The Cocktail, User Experience Consulting Company, owner of La Coctelera, biggest blogging platform in spanish language and fully developed on Ruby On Rails. He's one of the founders of alzado.org, and he'll speak at Fundamentos Web 2006 International Conference. You can learn more about him in his personal blog grancomo.com (Spanish).
Technorati Tags: web, conference, event, @media, @media 2006, w3c, jon hicks, eric meyer, veerle peters, cameron moll, nete koechley, jeff veen, tantek celik, andy clarke, dave shea, molly holzschlag, joe clark, accessibility, usability, user experience, javascript, ajax, presentation