Since yesterday, the volume of spam comments has gone up even more. Now we get 150 spam comments every 12 hours. (Yesterday it was 21 hours). I promised to tell about what countermeasures we have taken against spam comments.
What has that to do with usability? Well, in my opinion, irrelevant comments removes focus from the relevant content on the page, and makes your article less useful because of the irrelevant content.
In the last 8 months we had 348 real comments out of 6517 (with the 6,169 being spam comments we removed). Imagine what this blog would be like with 95% spam comments: Each relevant comment buried in 20 spam comments.
In my opinion, spam comments in that amount makes all comments unusable. Currently we're only using two countermeasures to avoid spam:
What we have done
1. Use Akismet for wordpress
Akismet is a plugin for the blog software justaddwater.dk runs on. The plugin checks all comments and trackbacks collaboratively on a lot of blogs. If the comment is already known as spam, it's never published. Here's what other people are saying about it:
Before Akismet I was spending more time deleting spam than creating content. Now I can focus on actually blogging!

I think Akismet is the best automated spam killer that actually gets better as it learns from the whole community marking new spam comments as spam. It just WORKS.
As i mentioned yesterday, an occational spam comment slips through the Akismet filter. Then we mark it as spam, and this way Akismet learns from us so that other users can benefit from this.
2. Make a spam filter against BBCode like "[/url]"
We noticed recently that almost all of the comments that slipped through Akismet contained weird formed codes like:
[url=spam.domain.com]Spam comment[/url]
This has been noted by many other bloggers including Sam Ruby (via Jeremy Voorhis) and Mike Haugland. To avoid this we've added another filter that holds comment for moderation if it contains [/url]. We put that into the "comment moderation" field as seen on the screenshot below: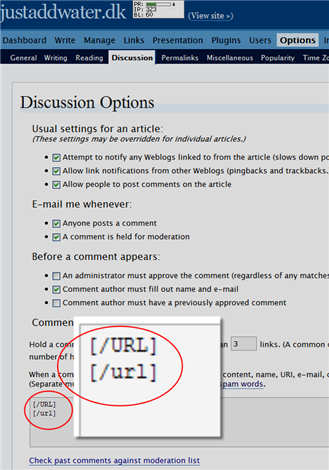 This is the two things, we've done and it's caught all our spam comments the last days.
What we might do
We feel it's not necessary at the moment but at some point that'll obviously not be enough. So we might do the following:
Remove standard URLs for posting comments
Recently, Thomas and I met with François Nonnenmacher, a French Capgemini employee blogging at padawan.info. He told that he had been very successful by renaming the files that receive comments — in our case wp-comments-post.php . From his webserver log he saw that many spam comments still hit on the standard comment file names.
Encode forms with JavaScript
Thomas Baekdal recommended this trick in a comment yesterday: Remove the comment form in the HTML source code and replace it with JavaScript that generates the same HTML. Can be done with online tools like http://automaticlabs.com/products/enkoderform.
A variation of this would be to use DOM scripting to change the URL the form posts to via JavaScript. Example:
[code lang="html"]