We just got a trackback link from a spam blog linking to Thomas' latest blog post.
At first sight, the trackback looked fairly real. Se screenshot below.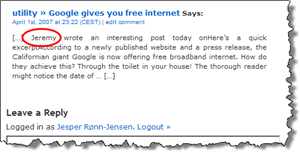 Just one thing caught my eye: Who's Jeremy?
I went to the site — it looked reasonable at a glance. A look at the categories (oh, it's called "associates" but is placed where normal blogs have categories): "shop entertainment", "shop outdoor sports", etc for 18 categories — all categories point away from the blog to external sites, for instance www.shop4outdoorsports.com.
A quick look at the blog postings showed all had the exact same wording:
<blockquote>[random name] wrote an interesting post today on [this place is blank]
Here's a quick excerpt:</blockquote>
(my notes in [square brackets] )
Here is the screenshot from the April archives page (the blog is placed on a server that's still on April 1st (I'm in Denmark at central European time). The interesting fact here is that there are currently 182 postings today.
Quite impressive — if it wasn't for the fact that all posts are identical (with a different random name, quote and link.

Previously we have written about our spam comment countermeasures in "how to avoid spam comments" (part 1, part 2), and the last 2 months since we passed 100,000 spam comments, we have had another 57,000 spam comments.
For now, I've marked the comment as a spam comment, hoping that Akismet will learn from this. What are your experience with this kind of spam? Any other countermeasures that you can recommend?
PS. As I've been writing this, the spam blog added another ten articles.
Technorati Tags: akismet, spam, comments, spam blog, spam comment blog