The last days, we've experienced a lot more spam comments than usual. For some months now, we have removed about 50 spam comments each day here at Justaddwater.dk.

Now, that number has more than tripled. We removed 150 spam comments just in the last 21 hours.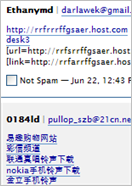 Thanks to Akismet (wordpress plugin to remove spam comments), the removal is fairly automatic. However, the last couple of days, 20-30 spam comments slipped through. Why? Akismet glitch or downtime? Or the comments were unique so that they appeard on justaddwater.dk before Akismet could recognize it as spam.
Comments that slips through Akismet appears in the comment RSS feed until we manually remove them. Even though it's usually not more that 30 minutes, it worries me.
What if more comments slip through? I've seen a few RSS comment feeds ruined by spam comments. How will Akismet keep up with increasing spam comment level? Can it handle spam level that triples globally? I really don't know. For us, Akismet is the best we've got.
And now we've just taken one more countermeasure to catch the few that's slipping through. I'll leave that to a separate post tomorrow.
PS. For the curious, click on the pictures to see an image of the full list with the 150 last spam comments. I won't hide anything from you: Mail and IP addresses are there.
Technorati Tags: blogging, akismet, wordpress plugin, spam comments