It took me a little while to use the new file deletion principle from Google Groups administrator.
You see the list of files, then click delete on the row you want to delete.The row then appears "selected" (the darker colored rows at the bottom). What confused me was that it still says "delete" followed by an "X" icon that usually means "delete".
Now, to to delete, press "save changes" below the rows.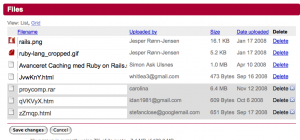 This layout is close to the old-school principle with checkboxes adjacent to the rows. This example is seen in Hotmail (where I think it originated 13 years ago).
In my opinion, the new Google Groups style mass deletion could do better:
First, the selected rows must have visual clue that it will be "deleted" — not a "delete" action (icon) that suggests further interaction is needed.
Second, change wording on button to "delete selected messages". Or, better yet: The button should be permanently disabled and enabled only when at least one row is selected.