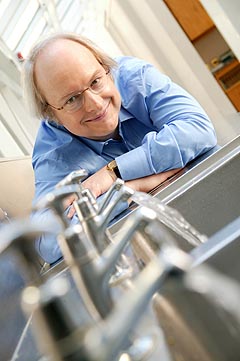 Yesterday BBC published a short article entitled "Web 2.0 'neglecting good design'". The journalist apparently attended a talk by Jakob Nielsen where he talked about usability issues in Web 2.0. The article is basically just a summary of the talk, and the main focus is that many websites, in the rush to be more Web 2.0, neglect usability.
Describing Web 2.0 as the "latest fashion", Mr Nielsen said many sites paying attention to it were neglecting some of the principles of good design and usability established over the last decade.
Jakob Nielsen does provide us with some interesting statistics. The general Web 2.0 website can normally divide its users into three categories:
1% of your users regually contributes
9% of your users occasionally contributes
90% of your users almost never contributes
What can we use these numbers for? Well, we can try to actually use good business practices and focus on the largest user group. As a techie I have a tendency to focus on the fun/interesting parts of a website – but these are the parts that usually only the first procentage of the users use!
To put it simple: To better serve the 1% of users who contributes, web firms tend to forget about the other 99% who just want to 'get the informaton'.
"Most people just want to get in, get it and get out," said Mr Nielsen. "For them the web is not a goal in itself. It is a tool."

Web firms rushing to serve the small, committed minority might find they make a site far less useful to the vast majority who come to a site for a specific purpose.
Technorati Tags: Jakob Nielsen, usability, web 2.0, statistics, bbc, web development, user interface