I've been the proud owner of a MacBook Pro for a couple of months now. This is my first real experience with a Mac and my expectations where, not to say the least, great. I of cause expected some transition issues, me being a long time Microsoft Windows user and all – But the problems I've encountered where way bigger and stranger than I ever expected.
Spell-Checking for non-English users
When I bought the MacBook, I also bought iWork (iWork is a office suite developed by Apple). First I thought that iWork was for OS X what Microsoft Office is for Windows. Without getting into a huge iWork vs. Office fight, lets just say that Microsoft Office is a bid more advanced and complete. iWork actually only consists of two programs: Pages (word processor) and Keynote (presentation) – No spreadsheet application even!
I'm getting carried away here. This was not the intended topic for this article. Instead I wanted to tell you about how spell-checking works in Pages. Even though I like my operating system to be in English, since this is the common IT-language, I would also like to type letters and other documents in my native tongue: Danish.
Problem 1: How do I get Danish spell-checking on OS X
OS X has a central spell-checking mechanism. This in it self is very clever, and means that every program that has some sort of text input easily can let you correct spelling errors – Pages included. Unfortunately Danish is not part of the languages that ships with OS X – Not even the Danish version of OS X as far as I'm informed!
Now you would think that you could go out onto apple.com and download a Danish dictionary right? Think again. You have to search for a 3rd-party application that lets you manage 3rd-party spelling dictionaries and install that instead.
Luckily I'm not the first Dane with this problem and Mikkel Winther has a great guide on how to achieve just this with a free program called cocoAspell.
Problem solved! (but not in an easy Apple-kind-of-way)
Problem 2: How do I get Pages to use the Danish spell-checking dictionary?
Now I get to the core of this article. The reason why I started writing this was because I was tired of seeing all these red wavy lines under each word when working in Pages – and I know that I'm not that bad a speller.

My initial reaction was to find some sort of spelling menu-item hidden away in the menus. I found this quickly under "Edit > Spelling > Spelling…"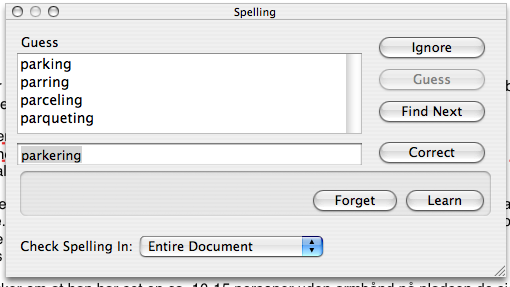 But as you might see there is no option with which I can change the current language. After searching through numerous settings dialogs and sub-menus, I turned to the all-mighty Google. I quickly found the answer on a blog called iUseApple.com.
What you have to do is "basically":
Select all your text (+a)
Click the Inspector icon
Click the big "T" icon
Click "More" pane
Click the "Language" select-box and select your language
I'll spare you all the screen shots, but for a detailed explanation (with all the screen shots) go visit iUseApple.com and see the blog post "How To Change Language In Pages".
Technorati Tags: Mac, MacBook Pro, Apple, Pages, Pages.app, Microsoft Office, Word, iWork, Keynote, usability, OS X, Microsoft Windows, switch, language, danish, spelling, spell checking, dictionary