Daniel Szuc tipped me about The Usability Toolkit, now available from Sitepoint.
I just ordered a set, and I'm really looking forward to this, as I remember Daniel mentioned the toolkit when I met him at UI 11 last month.
Understand usability and get the tools to put it into practice
Learn the essentials with over 125 pages of usability techniques for evaluating and designing effective web systems, including forms and templates that you can use immediately
Get on with making your sites usable with more than 200 pages of usability blueprints, offering practical solutions and patterns for blogs, product pages, shopping carts, sitemaps and much more …
Learn the design techniques that get your users involved
Dodge the pitfalls before they happen with our 19 pitfall flags
Discover how to evaluate and test your sites for their usability
Market usability as part of your service
Daniel recommends the blueprints a useful resource and how these pertain to the patterns discussions.
The best part of it — my personal opinion — is probably the early bird free web design fridge magnets. They will fit perfectly in the way we do rapid prototyping with Ruby on Rails at work.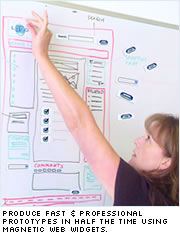 Exciting news!
Technorati Tags: usability toolkit, sitepoint, danielszuc, gerry gaffney, fridge, magnet, blueprints, user interface, ui, web development