The day started with a "Sun General Session" for all conference attendees. If there is one sentence that is worth repeating from this session it must be this one by Rich Green when he is asked by Jonathan Schwartz (President and CEO of Sun) "Are you gonna open source Java?":
"It isn't a question of whether, but a question of how"
See webcast, segment two, 22:10
The rest of the session was full of news of different Java frameworks, tools, etc. that was going to be open sourced – It is truly a good day for the Open Source community :)
I recommend you, if you haven't seen it already to go to the JavaOne website and watch the whole session as a webcast (you need to have RealPlayer installed – weird when you think about that this is a Java convention… Isn't Java supposed to be open?)
Blogger Meetup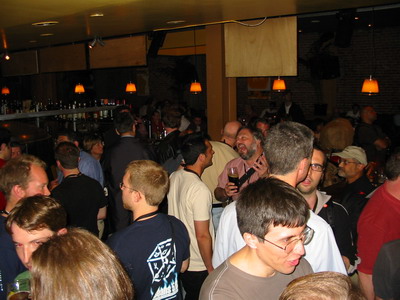 I unfortunately had to skip the "Beyond AJAX: Asynchronous JavaScript Technology and XML Native Processing" session. It was at the same time as the JavaOne Blogger Meetup. About a 100 people had signed up for the blogger meetup at the Thirsty Bear – The favored pub for JavaOne attendees.
I met a lot of interesting bloggers. For instance I got a chance to talk to Joe Walker, the author of DWR – an AJAX framework for Java – and Dave Johnson, the author of Roller – the blogging software that for instance runs most of the blogs at Sun and IBM (written in Java of cause).
I can just say that it was really nice to meet everybody and I really hope to get a chance to attend another meetup sometime in the future :)
See the rest of our JavaOne posts here…

Technorati Tags: JavaOne, java, sun, open source, webcast