Sometimes, when doing web development, we forget that not everybody are as familiar with the web jargon as ourselves.
This example from Pixum (internet photo developer) shows a good detail: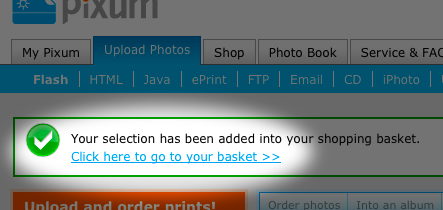 The status message from Pixum gives immediate feedback that makes it easy to go to next step
Note that the status message contains a link to the shopping basket to provide easy way to purchase. This design decision will probably decrease number of abandoned shopping carts.
Important lessons:
Provide help where users need it — not hidden in help windows where people only go when they give up using your app.
Make sure that the most important action is the most visible on page at the current time. No need to visually hint the shopping basket until there is something in it.