My Norwegian friend Eidar just wrote to inform me that their company (Netlife Research) has finally released Bad Usability Calendar 2008. Last year, the calendar got quite popular and even Jakob Nielsen mentioned it in one of his newsletters.
This year, I'm more than ever looking forward to use it. The calendar has — as always — 12 brilliant examples of how not to build a calendar.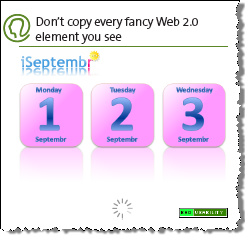 What's even better, the calendar now has it's own dedicated website: www.badusability.com, where it's also possible to upload photos of the calendar in the wild.
Like last year, I'll ask Thomas Baekdal to work with me on a Danish version… unless somebody else puts it up before us (if you plan to translate it, drop me a note so I don't waste the time).
Download from www.badusability.com
Our mention last year: Bad Usability Calendar 2007 in Danish