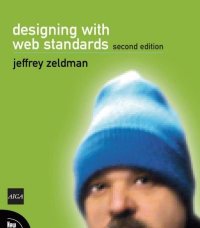 I just got an event invitation on Facebook asking me to join "Blue Beanie Day". Two questions quickly popped into my head:
What is a Blue Beanie?
Where do I get one?
If you are into web standards and accessibility you have already seen a blue beanie on the cover of Jeffery Zeldman's great book "Designing With Web Standards". A must-have for any web developer – both amateurs and professionals. You can see the cover here to the right.
The point of the event is to, on the 26th of November, wear a blue beanie when you go to work, to school, ride the subway, walk your dog at the local park, anywhere… This is your way of saying: Web Standards matter! Accessibility matter! This is your chance to raise awareness on this sometimes forgotten subject of web development.
And add a picture of yourself on Flickr afterwards.
Technorati Tags: Blue Beanie Day, Jeffery Zeldman, DWWS, Designing With Web Standards, Web Standards, Accessibility, Facebook, Flickr, book, event