On some computers, Amazon are preparing for the final steps of rolling out their new redesign… Just in time for Christmas shopping.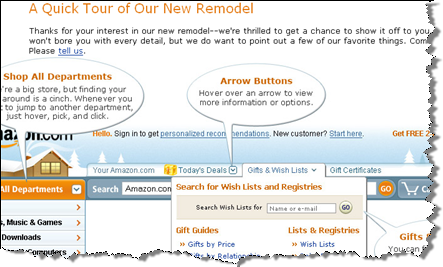 (click to see full length screenshot)
Amazon is often called the most intensely tested website in the world. Much of the design decisions and prioritations of content are based on automatic algorithms. So many (smal) changes have been made during the years.
But this time, Amazon apparently decided that it was necessary with pages to tell what changed. One thing in particular that I like from the page:
But I liked Amazon the way it was! I really dug [insert your favorite feature here].

Don't worry–we didn't remove anything. All your favorite features are still here. If you have any difficulty finding anything, please let us know. A few of you have already written in and asked about the following:

Bestsellers: Look for the "Amazon Bestsellers" link under "Amazon Exclusives" in the Features & Services box on the left-hand side of the Amazon homepage. You can also find bestsellers (or top sellers) for each department under the search bar in that department.

E-cards: Find free e-cards under the search bar in the Gifts store. To get to the Gifts store, just click on the "Gifts & Wish Lists" link above the Search box on any page.

International websites: The easiest way to navigate to our international sites is to scroll all the way down to the bottom of any page. There you will see links for our other sites.

Your Seller Account: Click on Your Account above the Cart button. On Your Account page, click on the "Your Seller Account" link found on the right-hand side of the page underneath the Cart button.
Source: http://www.amazon.com/gp/events/gno/103-8005038-4005464
So here is a school example on how to get the feedback out back to the audience.
I would like to know more about this redesign:
How big a percentage is getting the redesigned version?
How many of the visitors actually go to the "quick tour" page I show above?
Learn more at http://www.amazon.com/gp/events/gno/103-8005038-4005464
Technorati Tags: amazon, redesign, quick tour, usability, testing