If you run a blog or any other website for that matter, you might want to check out Google Webmaster Central – in particular their Google Webmaster Tool – if you haven't already seen it.
Google Webmaster Tool is a great tool for webmasters who want to see and manage how Google crawls their site(s). If you have a Google ID you can add all the sites that you control to a dashboard. From here you can see intimate details for each site. After adding justaddwater.dk I found that Google was encountering some HTTP errors when crawling our site. This of cause is very important since other users unfortunately also encounter these errors.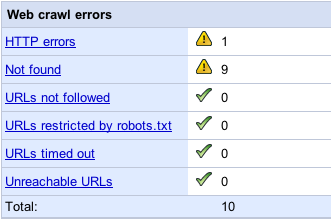 When diving into the errors I can see that some links to our site point at stuff that is not there. I unfortunately cant see where these links come from. They could be external or internal I guess, but I have to manually look at my site to see. Adding a "source" for the link would be very easy for Google and be a great benefit to the webmaster.
Besides web crawling problems, the tool also gives loads of other interesting information. I suggest you take a look your self, but to just summarize I quote Google:
Statistics
Top search queries
See which search queries most often returned pages from your site, and which of them were clicked.

Crawl stats
See your distribution info for your site, including the current PageRank for pages on your site.

Subscriber stats
If your site publishes feeds of its content, this page will display the number of users who have subscribed to these feeds using Google products such as iGoogle, Google Reader, or Orkut.

What Googlebot sees
See details about how the Googlebot sees your site.

Index stats
Learn how your site is indexed by Google, including which pages are indexed, and which other sites point to your site.
Links
Pages with external links
See which pages on your site have links pointing to them from other sites.

Sitelinks
See which links on your site have been identified as candidates for appearing directly in Google search results.

Pages with internal links
See which pages on your site have links pointing to them internally from elsewhere on your site.
Sitemaps
Add and manage your sitemaps (including code sitemaps).
Tools
Analyze robots.txt
See whether your robots.txt file blocks specific URLs as is, or with modifications you make. Test against various Google user-agents, too.

Enable enhanced image search
Enable Google's enhanced search for images on your site, including advanced labeling techniques for images hosted by Google.

Manage site verification
See all verified owners of this site, and optionally reverify them.

Set crawl rate
See statistics about how often Google crawls your site, and optionally adjust that speed if desired.

Set preferred domain
Associate a preferred domain with this site, to always or never show the leading "www." in Google's search results.

Remove URLs
Remove content from the Google index, including expediting that removal.
Technorati Tags: Google Webmaster Tools, Google Webmaster Central, sitemap, sitemaps, tool, review, search engines, http errors, accessibility