I just realized that the netbank I use logs me off when I request a page which the bank defined as "outside the netbank".
In my case I was at the net bank page watching my account. I pressed "search" to search for how to find the IBAN/BIC/SWIFT code for international transfer of money.
This action was enough for the netbank software to get insulted, and it immediately slammed the door behind me and logged me off. (The screenshot says "Log on" in top left corner).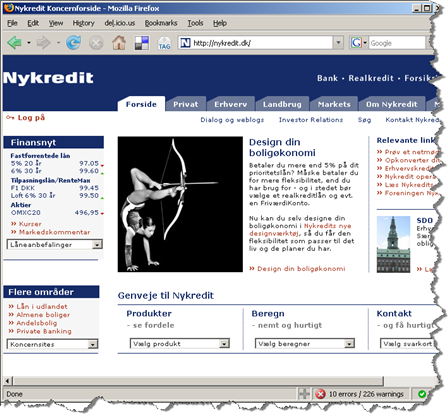 Nykredit are one of the big financial players in Denmark, and like the competitors, I know a lot of effort is put into making the websites more portal-like so the website appears to be one connected universe.
That's why it puzzles me that I'm actually logged off??? I'm sure that there is room for improving the user experience here.
PS I never found the SWIFT code to use for my friend to send money for my account. The search engine finds only information about sending money the other way (from my account to a foreign recipient). Ironically, I actually found the answer searching my personal email. It turned out I had asked the website supporters the exact same question a couple of months ago, then forgot all about it.
Lesson learned: Users tend not to use corporate website searches because they usually don't find what they are looking for. This example was no exception.
PPS I can't help noticing that this page has horizontal scroll and lots of HTML errors and warnings. Both things should be completely unnessecary with today's standards of webdevelopment.
PPPS. Full disclosure: I used to work for Nykredit 6 years ago. It was a cool place to be and there were lots of skilled colleagues there. A few of whom I am still in contact with. Back in 1999/2000 I did a usability test of the netbank, so I know usability is in focus in the company.
Technorati Tags: nykredit, bank, netbank, user experience, uxp, usability test, banking, online banking