Form usability revisited. In case you missed it, Luke Wroblewski (principal designer of Yahoo!), has made a thorough presentation on best practices in form design. The entire 112 page presentation is definitely worth a read. Kind of required read in my work :)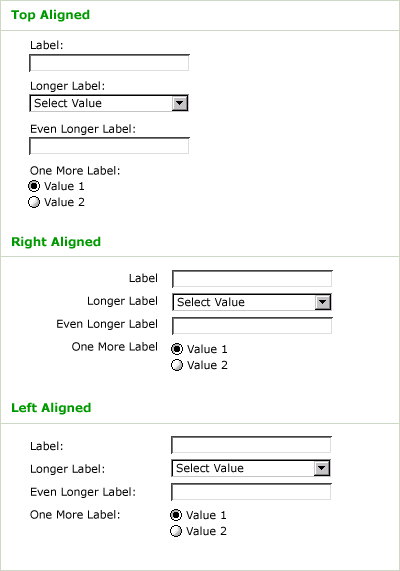 Here is why to prefer top-aligned labels:
Top-aligned labels tend to reduce completion times (how long it takes to complete a form) the most for familiar data (i.e. address, credit card, etc.) because they only require a single eye fixation to take in both input label & field. Top-aligned labels also work well for forms that require localization or long labels as there is plenty of horizontal real estate to expand/contract the label without negatively impacting the overall page layout. Top-aligned labels, however, do take up a lot of vertical real estate.

(Luke Wroblewski: Top, Right or Left Aligned Form Labels)
The report also has eye-tracking data to back it up: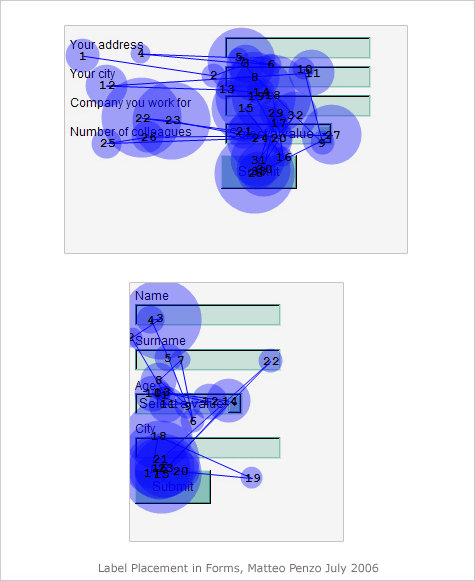 I'm working hard to memorize all his great points that can help me as inspiration for better interaction design.
Read more and download the full report from his article "IA Summit: Best Practices in Form Design" (Luke Wroblewski, March 26, 2007)
Technorati Tags: interaction design, ixd, usability, eye-tracking, form, design, webdevelopment, lukew, yahoo, best practice