May 31st and June 1st, the annual Reboot conference will take place here in Copenhagen.
For now, there is no information on who's speaking and almost no rumours on what's going on.
But I'm expecting the best: Usually, there is a strong setup of  international speakers on topics that range from geek speak to the more managerial level.  Last year was a blast, and I hope for the most interesting presentations.
However, just networking and meeting old friends and colleagues and perhaps potential business relations, is what I look forward to the most :)
Like Jakob "mentalized" Skjerning, I must agree that the website is absolutely horrific. And after registering relations to other participants, I was "spammed" by auto generated emails each time I'm involved in a new relation: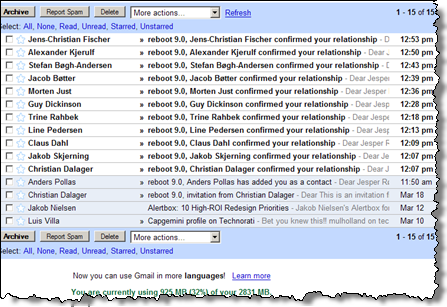 See you soon!
More info
Technorati Tags: event, conference, reboot, copenhagen, denmark, reboot9