Thomas and I are interviewed in Danish newspaper "Børsen" today. The article is a 10,000 feet business overview on the productivity gains and possibilities with Ruby on Rails.
I really like the picture (by Reimar Juul) and the fact that the article mentions both Justaddwater.dk and Copenhagen Ruby Brigade. Woot!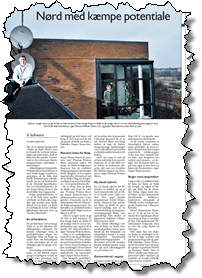 Click image to view larger version
For the benefit of the Danish speaking readers, I really want to include the entire text from the article here to make it searchable and quotable for the benefit of everybody who is also interested in Ruby on Rails for enterprise use. Currently I'm awaiting permission from Børsen to include the article here. Also, I'm awaiting a direct link to the Børsen article if you like to read it in it's original domain.
Further information:
Technorati Tags: justaddwater, ruby on rails, rails, interview, newspaper, showcase, capgemini, thomas watson, jesper rønn-jensen