I have just downloaded and installed a trial version of Stylus Studio, an XML suite for software developers. After the installation the user is prompted for some personal information in order to receive a license key in an e-mail.
One of the required fields is a phone number. I wrote 39778440, well knowing that I left out the county code – why the hell would they want to call me anyway? But after clicking the "Get Evaluation Key" button I got the following error message "A valid phone number is required":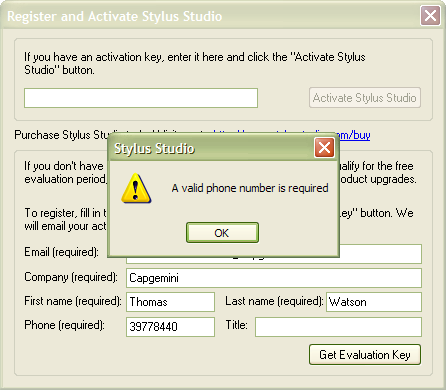 What is a valid phone number?
No explanation of the syntax was given. For a moment I was afraid that this was one of those situations where the designer of the application thought that all phone numbers in the world look like they do in USA (argg!!). But being an intelligent user I of cause tried to put my county code "+45" in front of the number and clicked the button once again. This time I got my evaluation key and everything was fine.
But why is it so hard to show proper error messages? And what if I wrote "0045" instead of "+45"? Would it then also have validated ok?
Technorati Tags: stylus studio, usability, error messages, validation