Very interesting read from a user interface point-of-view. I stumbled upon a walkthrough of Windows Vista. An interesting perspective here is that the search field has gotten a prominent position on the Start menu itself.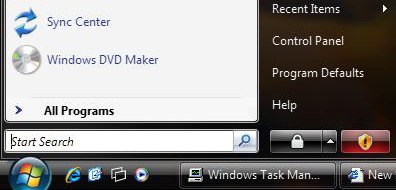 From BentUser – Windows XP and Vista Side-by-Side (via MadMan's LinksMatic: Windows XP vs Vista):
The start menu has evolved in Vista. At any time one can type search words, resulting in Search-As-You-Type functionality. This search leverages the broader search functions built into Vista. It functions in a very similar fashion to the MSN Desktop Search deskbar – but is integrated directly into the Start Menu. It is actually quite useful, and newly created documents appear to get indexed almost immediately. For example, after copying some Word documents into the Documents folder, they were available for search immediately. Since the start menu can be activated with the start button, one can actually perform a search and select a search result, all without touching the mouse or opening any new windows. Quite slick. Pressing enter opens a full search results window.
From the conclusion:
Search is a big addition, and its nearly inescapable omnipresence throughout Vista point toward Microsoft's emphasis. The fact that all of these search boxes can also search the Internet with MSN Search also paints a fairly dangerous-looking picture for Google.
My comment: It doesn't matter if you call it Find-as-you-type or live search or autocomplete. Live search is getting big and perhaps ready for broader mainstream acceptance.
Previously, Live search has been implemented in multiple desktop and web applications.
The browser address bar autocompletes as you type based on the web adresses you previously typed.
Windows XP file manager autocompletes when you open a new file from an application.
Microsoft Outlook autocompletes contact names as you type.
Google's web based GMail also autocompletes contact names (and is much better than Outlook in guessing correctly). Link to GMail demo with autocomplete.
Google Suggest is a find-as-you-type version of Google web search.
In all of these examples, You're actually searching without pressing a search button. Here are screenshots of GMail and Google Suggest:


Recently I've seen more Live search solutions showing up. There's a blog plugin that does it. There's even a component library (perhaps more than one). Amazon's diamond search does it. I'm confident that this will show up more and more.
When is Live search ready for mainstream
As we see more and more Live search being implemented in real-world web applications, it's obvious that users will get used to searching without pressing a search button.
When users start suggesting live search, and wondering "why don't they use find-as-you-type", then it's ready for mainstream. How we get there? I guess somebody has to implement to start the trend. Google is well on the way already.
Technorati Tags: windows xp, windows vista, comparison, user experience, usability, live search, find-as-you-type, google suggest, gmail, amazon