For a simple Excel sheet time reporting, i needed to enter hours every day for arrival and departure time.
Excel is not so smart about the time format. For instance I need to enter "9:00" for nine in the morning. I wanted just to enter "900", and let the excel sheet format the data correctly itself.
I found a working solution on PC Mag: "Easy Date and Time Entry in Excel Tips".
Enter time format as a simple number (like "900" or "1500").
Format the cell to display an extra colon.
In a (hidden?) cell, calculate the time to use for further calculations.
Format cells for viewing:
Take the cell and format it so it visually shows the colon for the number that is input. Go to the menu item "Format" > "Cells…" dialog. Select "Custom" format and input "0\:00" as shown on the screenshot.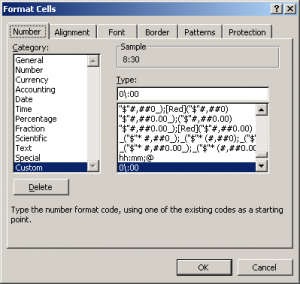 Create (hidden)? cell to calculate time:
Take an adjacent cell and let it interpret the input value as a time value. =TIME(9, 15, 0) is equivalent to 09:15:00 and will require 3 parameters for hour, minutes, seconds.
Our inputformat is "915". Extract hours value: TRUNC(915/100)
Extract minutes value with modulus that extracts the rest 15 from 915 divided by 100: MOD(915, 100)
So the formula will be =TIME( TRUNC(915/100), MOD(915,100), 0)
This calculation is hidden in the final spreadsheet in columns E, G, and J.
Here a screenshot of the result:
I added the time sheet template here for further convenience.
2011-timesheet.xls (47KB Excel format)
(timesheet updated January 6th: Sum can now handle more than 24 hours)
IAnd now I can happily save entering colons every day :)