I had to ask my old colleague and friend Michael Bernth for help today for a Photoshop tip.
I wanted to round the corners of an image with the shape of a rounded rectangle.
Here is an easy way (I'm using Photoshop CS1):
Start with an image in a separate layer. Create a new set (folder), and put the image into it.

CTRL + click the layer to select layer transparency
Hide layer with shape, still preserving the selection
Select the folder by clicking once on the set in layer list

Choose "Layer" > "Add layer mask" > "Reveal selection"

Finished result: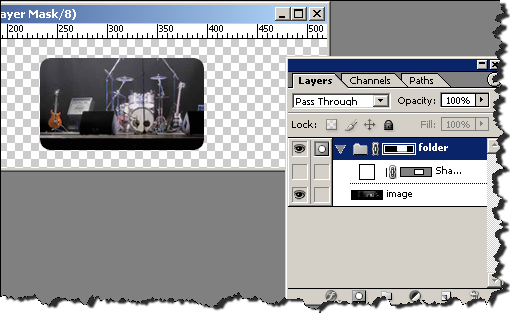 And voila! Now you can drop any image into the folder. You can move it around, copy, etc.
Another nice trick is to unclick the binding between the mask and the image. That way, you can move the mask around on a big image, to find just the right crop. (I felt like the start of a James Bond movie moving the mask around… :)
Technorati Tags: photoshop, productivity, tip, web, rounded corners, michaelbernth