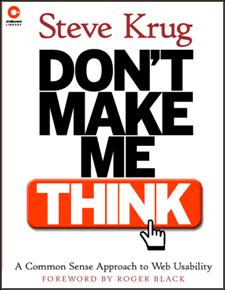 I'm a big fan of Steve Krug and especially the "Don't make me think" mantra (because most people actually get the point). In his presentation at the Boston-IA chapter from Jan 26, this blog suddently shows up.
Steve Krug refers to "25% of all web users are disabled". Steve Krug. I'm amazed!
Have a look in the PowerPoint at page 9 (you really can't miss it) or if you're not into Microsoft programs, take a look at the text version online or see my screenshot here:
I'm actually thrilled about this, because that means that we get some attention from people that we really look up to.
I'm interested in hearing more about the Boston Meeting, and will be very excited to hear from you, how our website was used and what points Steve Krug made about it.
Also, It's been mentioned on
(actually our statistics software registered 102 links used)
Here is the local copy of Steve Krug's Powerpoint presentation.
UPDATE March 9: Added local page with Steve Krug's presentation and link to Gadgetizer.
Technorati Tags: accessibility, usability